Bigger menu, vegetarian meals, salads and breakfast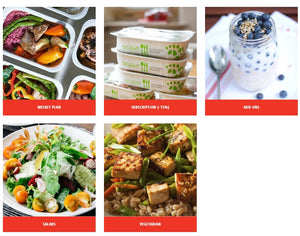 As FuelMe is growing, so is our offering of tasty and healthy meals. We updated our whole menu in multiple ways and it is already shown on the website.
More meals to pick from
You now can select from a total of 14 meals in our weekly meal plan. We will offer our best and most popular meals every week, and rotate between a couple of new ones. The weekly meals can be ordered for Monday as well as for Wednesday delivery. We are currently revamping the order page so it will be more user-friendly to pick your meals.
Vegetarian options
Are you keen on more plant-based meals? We hear you!  You can choose a number of our vegetarian meals. Some of these might seem familiar, others are entirely new. The vegetarian options are divided into our Vegetarian Sport and Vegetarian Premium meals.
Fresh and tasty salads
Select one our fresh and big salads! They are ideal for a proper lunch at work or even serve as your dinner. Whether you would like a tuna, chicken, goat cheese or Greek salad - there are some excellent and lovely options to choose from.
Breakfast you say?
Based on the feedback and increasing customer demand, we tuned our add-on selection by giving more options: breakfast and lunch choices, snacks and new protein choices. At the same time, your favourite sauces can now be added to your cart as well.
The add-ons, vegetarian meals and salads can all be purchased separately, without having to select a weekly meal set. The minimum purchase amount is €35, which includes the delivery.
Order in time
With this increase in the variation of meals, comes that more time is needed to source ingredients and prepare the meals. That is why the order deadline is Thursday midnight for both delivery days. On Friday a new menu will appear and you can order for the week after again. If you are too late and still to order meals, drop us a message and we might be able to squeeze your order in.  

At the moment we are working on a customizable meal plan where you select your source and size of carbs, protein, vegetables and spices out of a list of options. We will also offer a 5-day week plan with 10 meals (5 lunches, 5 dinners) in the form a weight loss program.
Do not forget we have a running subscription model where you do not need to remember to order every week and still get your favourite meals delivered at a lower price than a regular meal set. Over 50% of our current orders come from subscribers and they are loving it!