FuelMe update: Add-ons and new meals!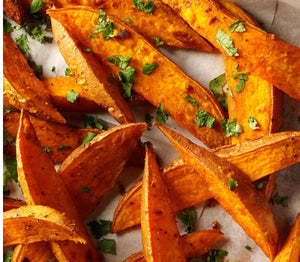 You may have noticed (if not - go check it out!) but we made some excellent and quick changes to our website and menu.
First of all, we decided to offer add-ons next to our regular meal sets. You can add these to your weekly order. Select a source of carbohydrates such as sweet potato or rice, a form of protein sources like pulled pork or chicken breast, a yummy breakfast, or a snack on the go like a bowl of overnight oats with berries. These add-ons will vary on a weekly basis and we will place new ones in our store regularly.
Did someone say sweet potato?
At the same time, we are adding
new meals
to our rotating menu of 8 meals per week. Besides the regular "FuelMe Sports Meals", the other half of the meals will now have more seasonal vegetables, more herbs and new forms of tasty protein such as salmon. The focus of these meals is less on the functional aspect of meals, rather on the pure enjoyment, the quality and the taste of the food itself. The division of fish, meat, vegetarian and chicken is dropped and the most popular meals known from before and high in calories with a 40/30/30 macro division will be available alongside our new meals.
Salmon Teriyaki is one of our new meals.
Whether you are looking for a meal to fuel your day or a tasty dish with more seasonal ingredients for those who are not chasing a specific calorie intake, you can select both types in a meal set as you like. All meals are still clean, made from scratch without any additives or processed ingredients. We believe clean food and nutrition are at the base of an active and busy lifestyle.